Upcoming Comic Releases
Want to know what new comics we are excited about? Take a look at this list and let us know what you want to order!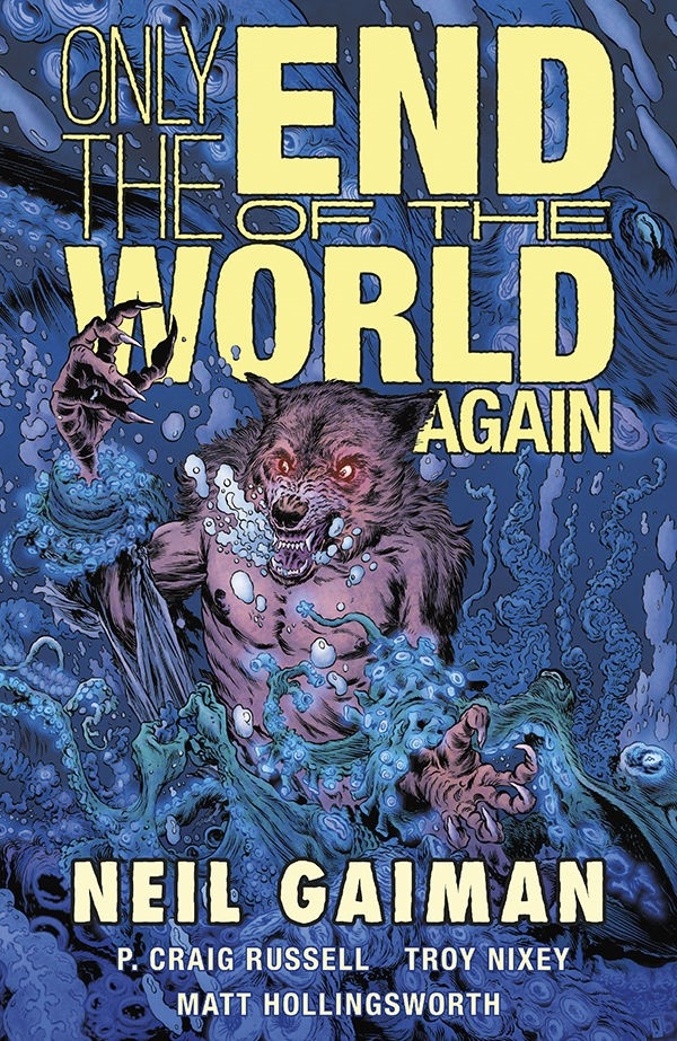 January 24
Only the End of the World Again by Neil Gaiman
The story follows Lawrence Talbot, a claims adjuster who relocates to Innsmouth, Massachusetts. As soon as he settles in, a local 'profit' announces that the world will end, at the hands of a werewolf. Talbot, unfortunately, is a werewolf.
January 29
HIT-GIRL IS BACK! The pint-sized Punisher-meets-Polly-Pocket has left America behind and set off to serve justice around the world. First stop: Colombia. A mother seeking vengeance for the murder of her child enlists Hit-Girl to destroy his killer, but Mindy has bigger plans for Colombia's most feared hitman. MARK MILLAR and RICARDO LOPEZ ORTIZ join forces for the first chapter of Hit-Girl's world tour in this new, ongoing monthly series.
January 29
BRAVE & THE BOLD BATMAN & WONDER WOMAN #1
Don't miss the start of a new, six-issue miniseries written and illustrated by Liam Sharp (WONDER WOMAN)! When a Celtic god's murder leads to a war between the fairy folk and a possible breach between worlds, Wonder Woman must find the murderer and keep the peace while Batman investigates strange occurrences in Gotham City. As Diana must turn to the World's Greatest Detective for help, the two heroes quickly learn their cases may be connected.
February 7

FOUR-ISSUE WEEKLY MINISERIES EVENT! Critically acclaimed writer ALEX de CAMPI teams up with some of comics' hottest artists to create tales of love gone wrong, right, and everywhere in between. ISSUE ONE: 'OLD FLAMES' In New York City in 1978, there are thousands of ways for people to get together. There's only one agency dedicated to tearing them apart: Heartbreak Incorporated. But who is the handsome seducer who runs the agency, and what is the secret he's hiding? Drawn by KATIE SKELLY (My Pretty Vampire). Backup comics story by SARAH HORROCKS (Goro, The Leopard) and prose story by MAGEN CUBED (Crashers).
February 7

INFINITY COUNTDOWN ADAM WARLOCK #1
ADAM WARLOCK IS BACK! Reborn from the realm of the dead, Adam has come seeking the Soul Stone…and the truth about what it did to Him! His guide through this Infinity Quest is none other than…Kang the Conqueror?!? Be there as Adam begins down the dark trail sure to lead him into the heart of the mystery of the Infinity Stones…
February 28

Simon Spurrier (Godshaper, The Power of the Dark Crystal) and Daniel Bayliss present a magical look into the world of Jim Henson's Labyrinth! Before Sarah braved the Labyrinth to save her brother, another young woman sought to save a young boy named Jareth from the clutches of the Goblin King. The untold history of the Goblin King and the history of Jim Henson's Labyrinth. He wasn't always the Goblin King…
February 28

When a fleet of spaceships crashes into northern Europe in 956 AD, a group of unlikely Viking heroes are the last line of defense against a brutal intergalactic warlord. Equal parts science fiction and fantasy, The Spider King follows the adventures of Viking warriors as they defend their world against alien invaders armed with futuristic technology and impossible weapons.
March 7

A volcano goddess named Keegan is loose in the world, and the prophecies are unclear whether her coming will bring humanity's destruction or salvation. In the shadow of a sacred volcano, from which Keegan derives her powers, lies the ancient city of Azar. Holding the key to the mysteries of her past, Keegan and her friends must get to Azar before it is overrun by a horde of forest monsters. Meanwhile, The nefarious Cult of the Goddess has plans to summon forces as old as time to extinguish Keegan's flame permanently. From the number-one New York Times bestselling cartoonist JOHNNIE CHRISTMAS (Angel Catbird, SHELTERED) and superstar colorist TAMRA BONVILLAIN (Doom Patrol, Moon Girl and Devil Dinosaur) comes a fiery tale you're not soon to forget! Collecting the full saga that began in ISLAND magazine, with all-new material!