Do you ever wonder what you are missing in the comic world? What are the best comics out there that you are not reading? Thankfully, Gryphon is here to help! Our staff have come together to pick out the best comics that you are current not reading, and some amazing ones you may have missed. We promise to keep this up to date, so you can check for a brilliant new list every quarter. Now you will never need to wonder what the best comic books are that you may be missing!
Best Comic Books – DC Comics Ongoing Titles – you can pick up the next issue off the shelf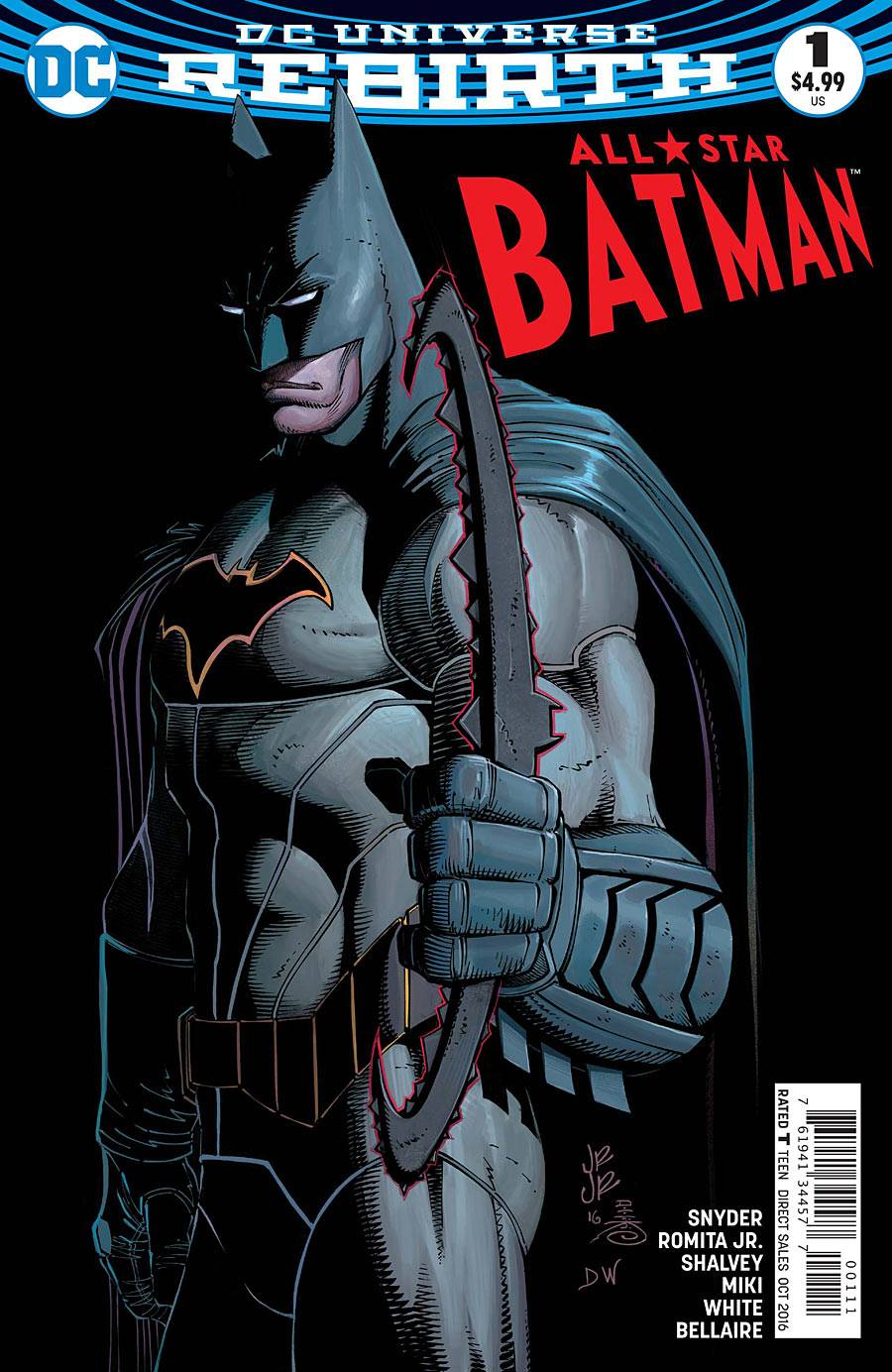 All-Star Batman
Superstar writer Scott Snyder explodes into an all-new Batman series alongside legendary artist John Romita Jr., reimagining some of the Dark Knight's greatest villains. First up: Two-Face! Batman must take Two-Face to a destination out of Gotham City, but the duplicitous villain has a two of spades up his sleeve. Every assassin, bounty hunter and ordinary citizen with something to hide is on their tails with one goal: kill Batman! Handcuffed together on the road to hell, this is Batman and Two-Face as you've never seen them before!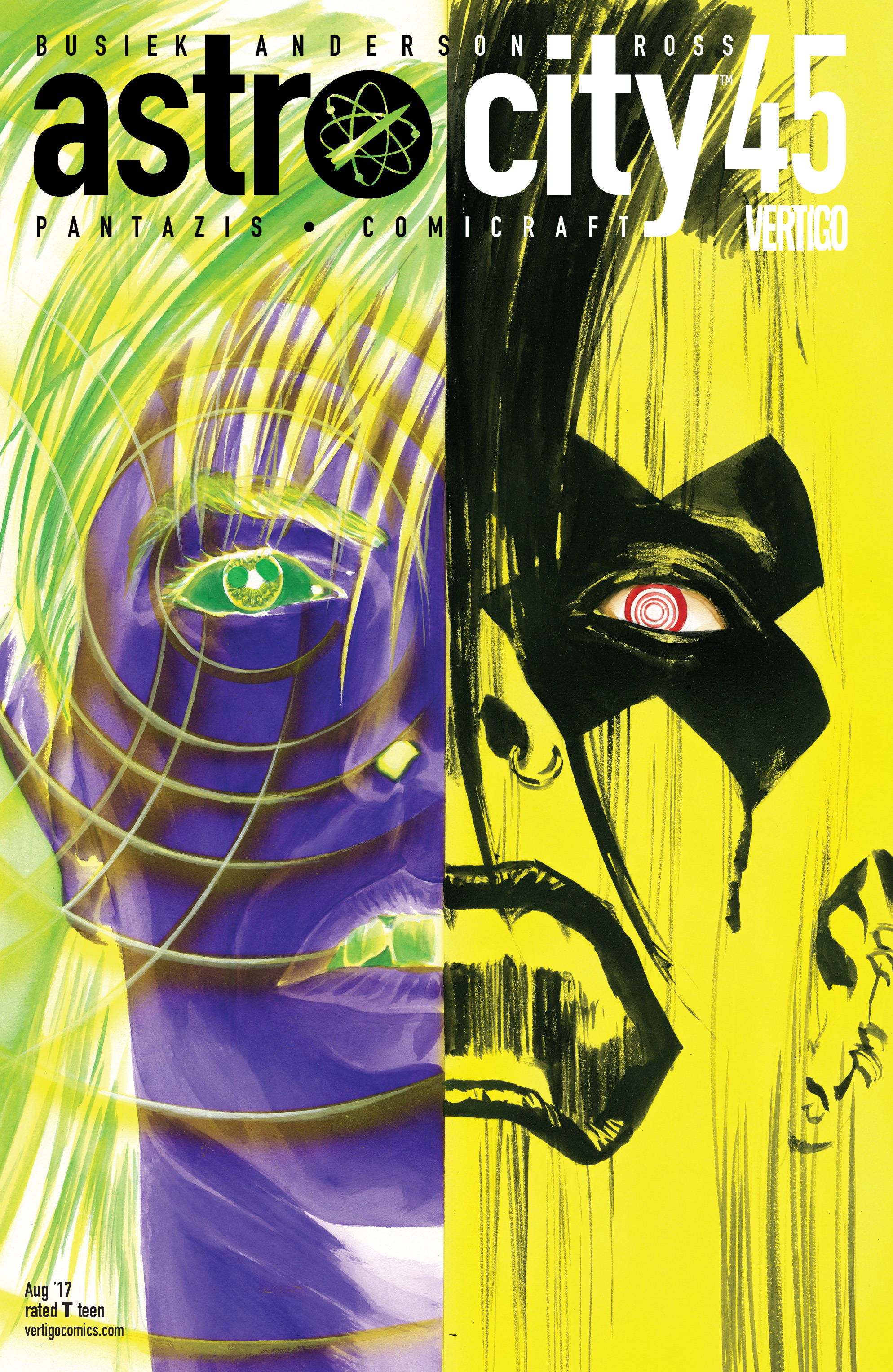 Astro City
Astro City explores how people—both ordinary people and the heroes and villains themselves—react to living in their world.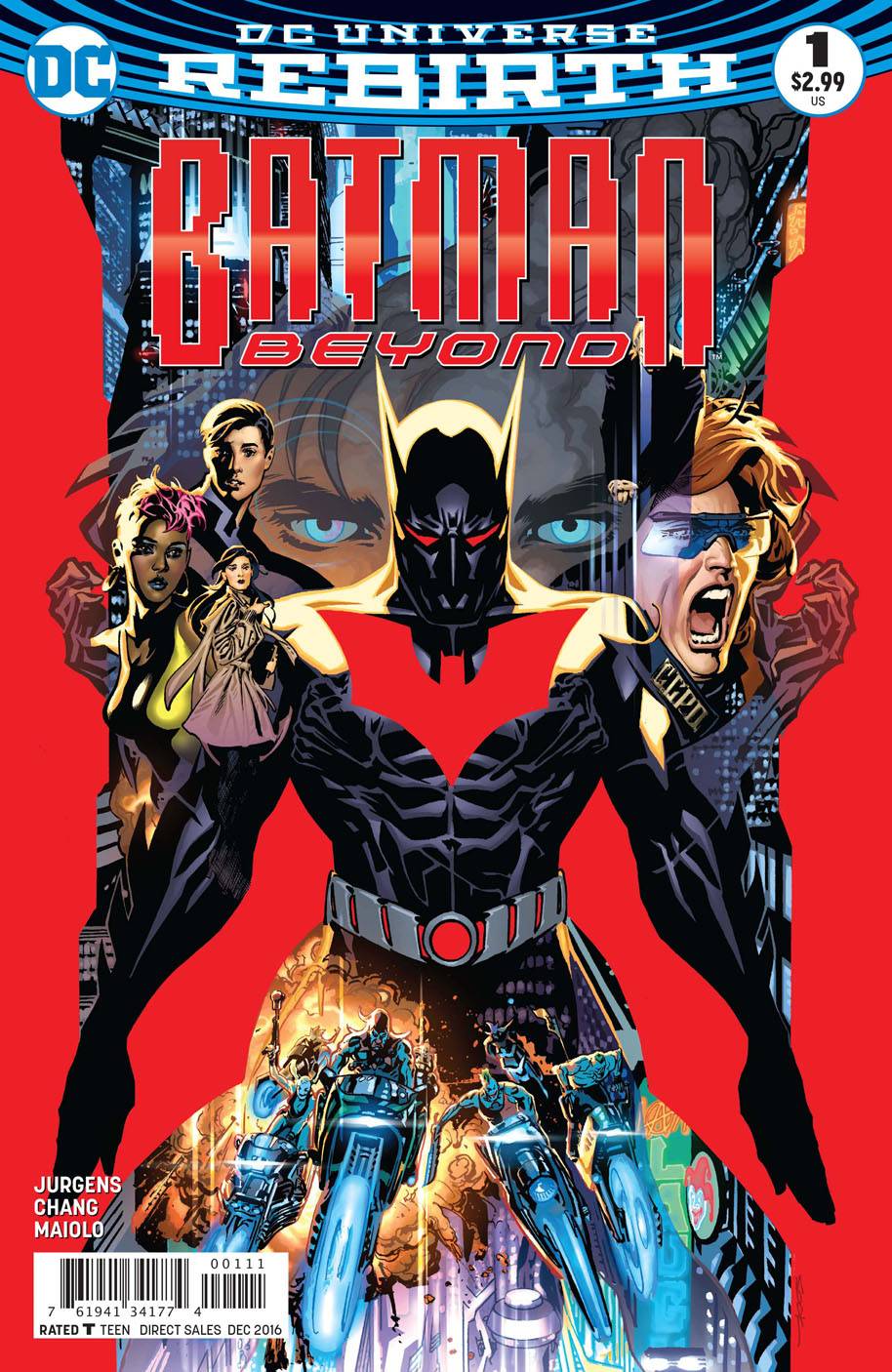 Batman Beyond
Terry McGinnis is back as Batman, much to the delight of his family and friends. But is the original Joker really back as well? Inspired by the possible return of their role model, the Jokerz have taken over an entire section of Gotham City and are determined to wreak havoc in the still-rebuilding city. While Batman battles chaos on the streets, his friend Dana is at the mercy of the new leader of the now-unified gang.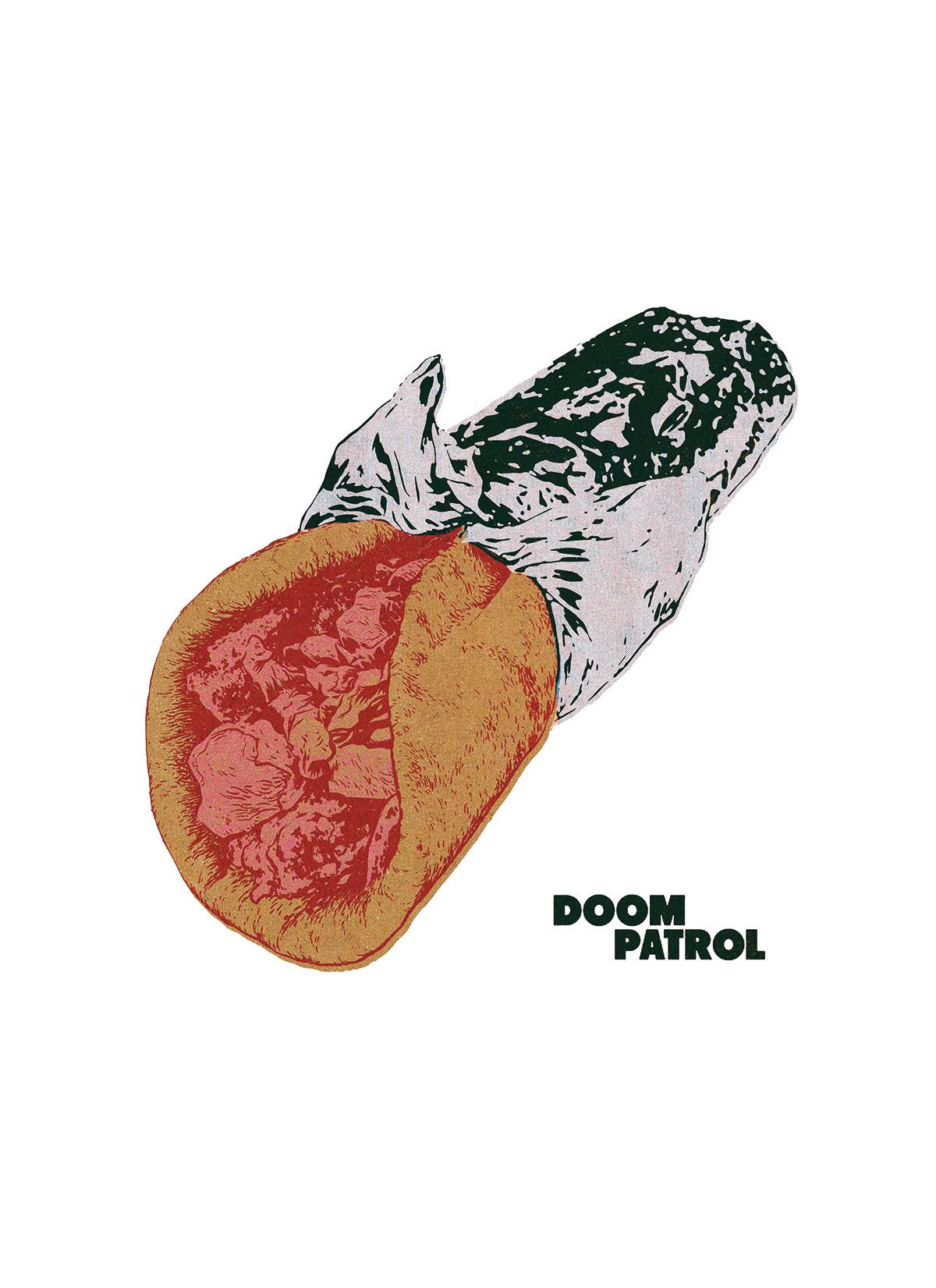 Doom Patrol
The atoms are buzzing. The daydreams crowd sentient streets, and the creative team has been warned, "Turn back now or suffer the mighty consequence of sheer, psycho-maniacal mayhem." Generation-arsonists unite-this is DOOM PATROL, and the God of the Super Heroes is bleeding on the floor.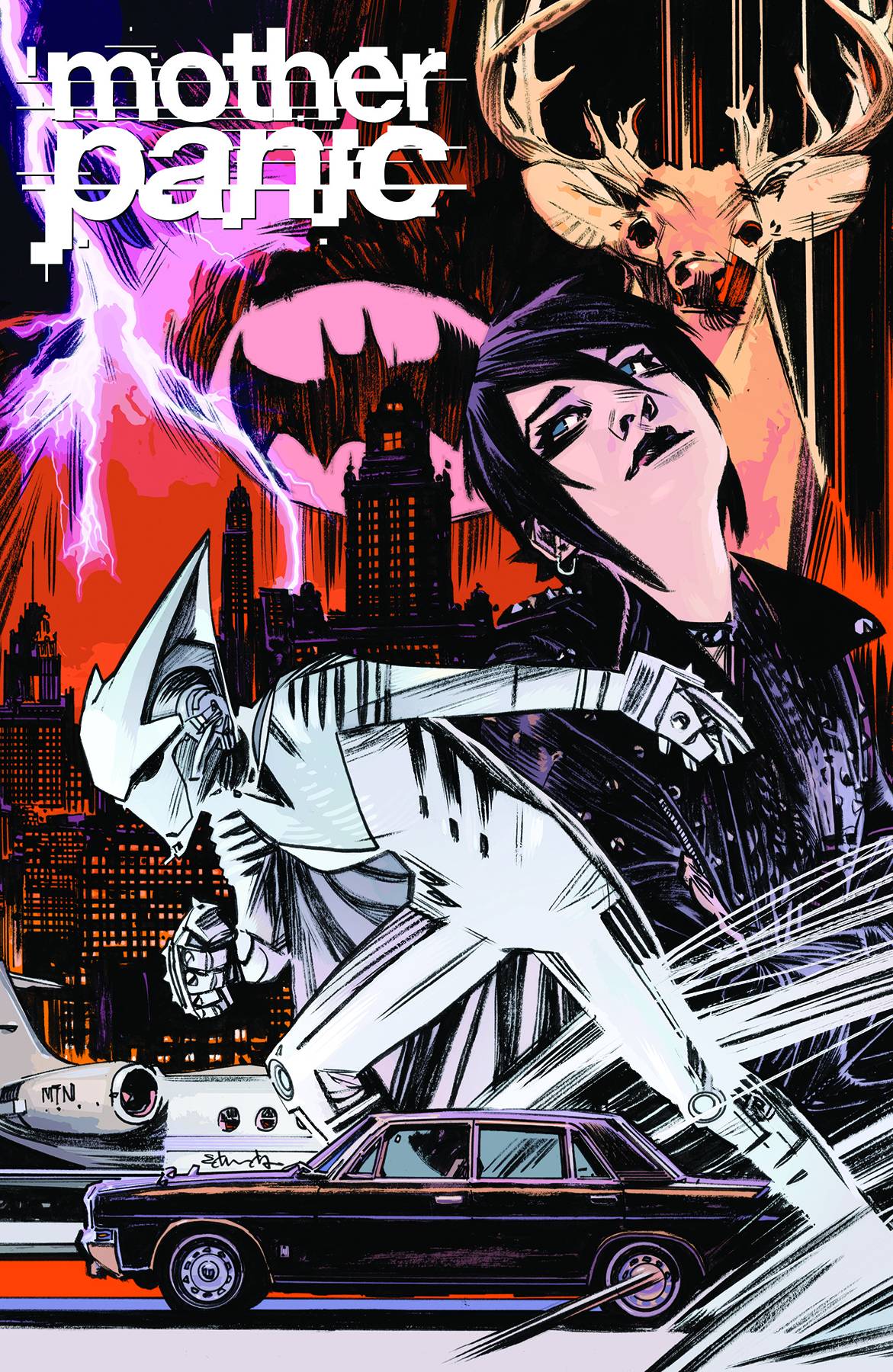 Mother Panic
Meet Violet Paige, a celebutante with a bad attitude and a temper to match, who no one suspects of having anything lying beneath the surface of her outrageous exploits. But Violet isn't just another bored heiress in the upper echelons of Gotham City's elite. Motivated by her traumatic youth, Violet seeks to exact vengeance on her privileged peers as the terrifying new vigilante known only as Mother Panic.
Best Comic Books – DC Trade Paperbacks – amazing stories you may have missed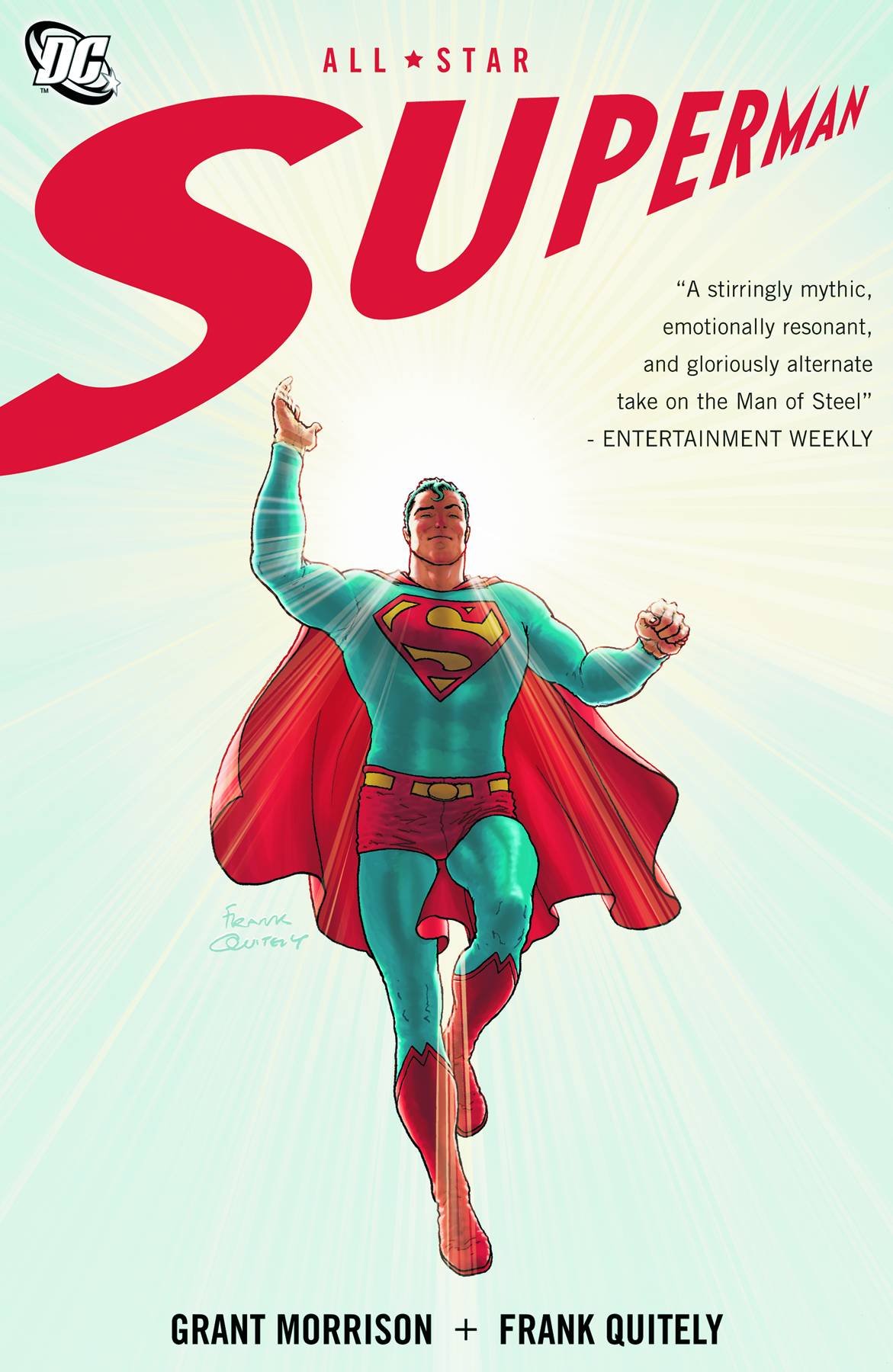 All-Star Superman
Eisner Award-winning 12-issue series from Grant Morrison and Frank Quitely. Witness the Man of Steel in exciting adventures featuring Lex Luthor, Jimmy Olsen, Lois Lane, Bizarro, and more! Plus: Superman goes toe-to-toe with Bizarro, his oddball twin, and the new character Zibarro, also from the Bizarro planet.
All compiled in one $29.99 volume Batman Year 100
Visionary writer/artist Paul Pope presents a futuristic mystery of epic proportions! In Gotham City, 2039, a federal agent is murdered, and a contingent of Washington's top agents is hot on the trail of the Batman, long thought gone, but now the suspect in the murder.
The new collection of the 4-issue miniseries includes never before published sketch material – $29.99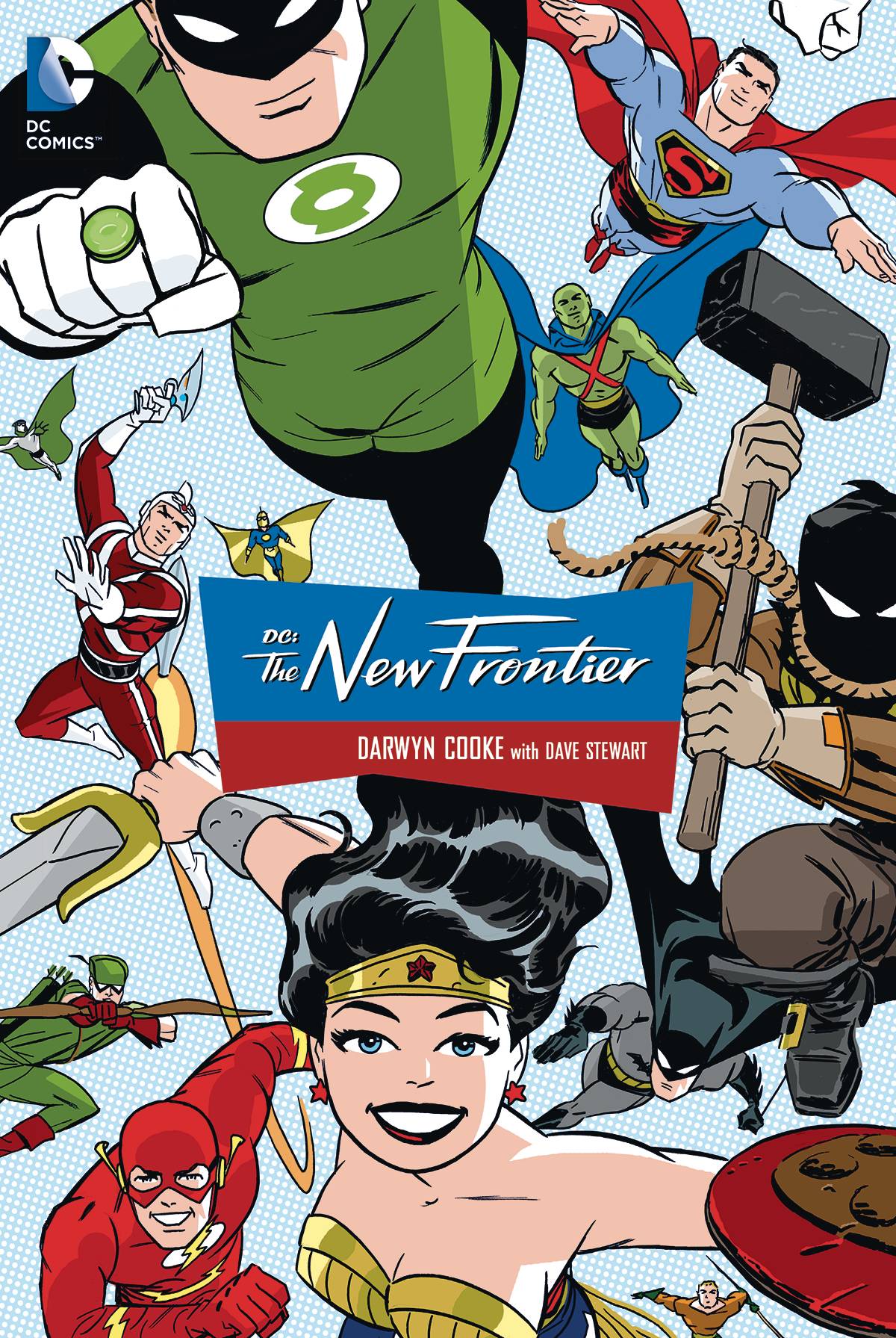 DC the New Frontier
Darwyn Cooke's acclaimed epic is back in a new title collecting the 6-issue miniseries plus JUSTICE LEAGUE: THE NEW FRONTIER SPECIAL #1! When Cold War paranoia outlawed the heroes of the Golden Age, stalwarts such as Batman, Superman and Wonder Woman continued to fight for truth and justice. But as the world hurtled toward an uncertain future, a new breed of hero would define the American Way!
$34.99 Flintstones
It's the Flintstones as you've never seen them before! This new series stars the first family of Bedrock (and civilization, really) tell the story of the dawn of civilization through the eyes of Fred, Wilma, Barney, Betty and the rest of the citizens of Bedrock. Shining a light on humanity's oldest customs and institutions, writer Mark Russell (PREZ) blends satire with Hanna-Barbera's classic characters.
2 volumes at $16.99 each Kingdom Come
Written by Mark Waid and illustrated by Alex Ross, this is the unforgettable, best-selling tale of a world spinning inexorably out of control. Waid and Ross weave a tale of youth versus experience, tradition versus change, and what defines a hero. KINGDOM COME is a riveting epic that pits the old guard – Superman, Batman, Wonder Woman and their allies – against a new, uncompromising generation of heroes.
One volume – $19.99 Superman Red Son
In this tale of Cold War paranoia, the spaceship carrying the infant Superman lands in the 1950s Soviet Union, where he grows up to become a symbol of Soviet power.
One volume – $17.99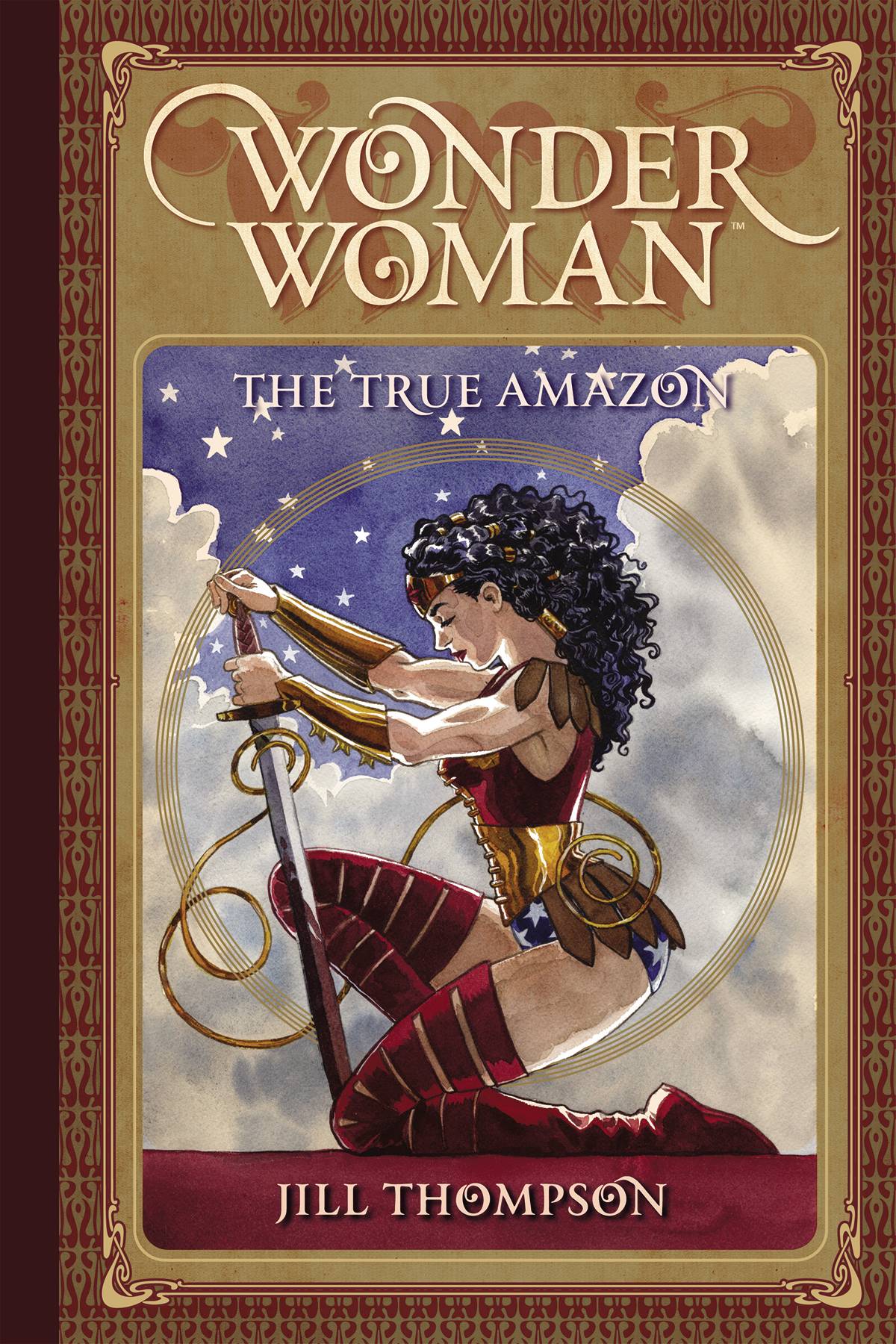 Wonder Woman the True Amazon
Jill Thompson's original graphic novel reimagining of the early years of the Amazon Princess Diana, who would grow up to become Wonder Woman. This fully painted graphic novel is unlike any Wonder Woman tale you have ever read, told as only Eisner Award- winning writer/artist Thompson could. When young Diana has the fawning attention of a nation, she grows spoiled. But a series of tragic events take their toll, and Diana must learn to grow up, take responsibility, and seize her destiny. Steeped in the mythology of this iconic character's original conception, WONDER WOMAN: THE TRUE AMAZON is designed to appeal to a wide range of readers. It's a fresh, stand-alone interpretation of the most famous and iconic female superhero of all time and the fulfillment of a dream project by one of contemporary comics' most acclaimed creators.
One volume, in hardcover and paperback – $16.99-22.99 Y the Last Man
It's the saga of Yorick Brown – the only human survivor of a planet-wide plague that instantly kills every mammal possessing a Y chromosome who searches the world for his lost love and the answer to why he's the last man on earth. Written by Brian K. Vaughan.
Four collected volumes – $19.99 each
Best Comic Books – Marvel Comics Ongoing Titles – you can pick up the next issue off the shelf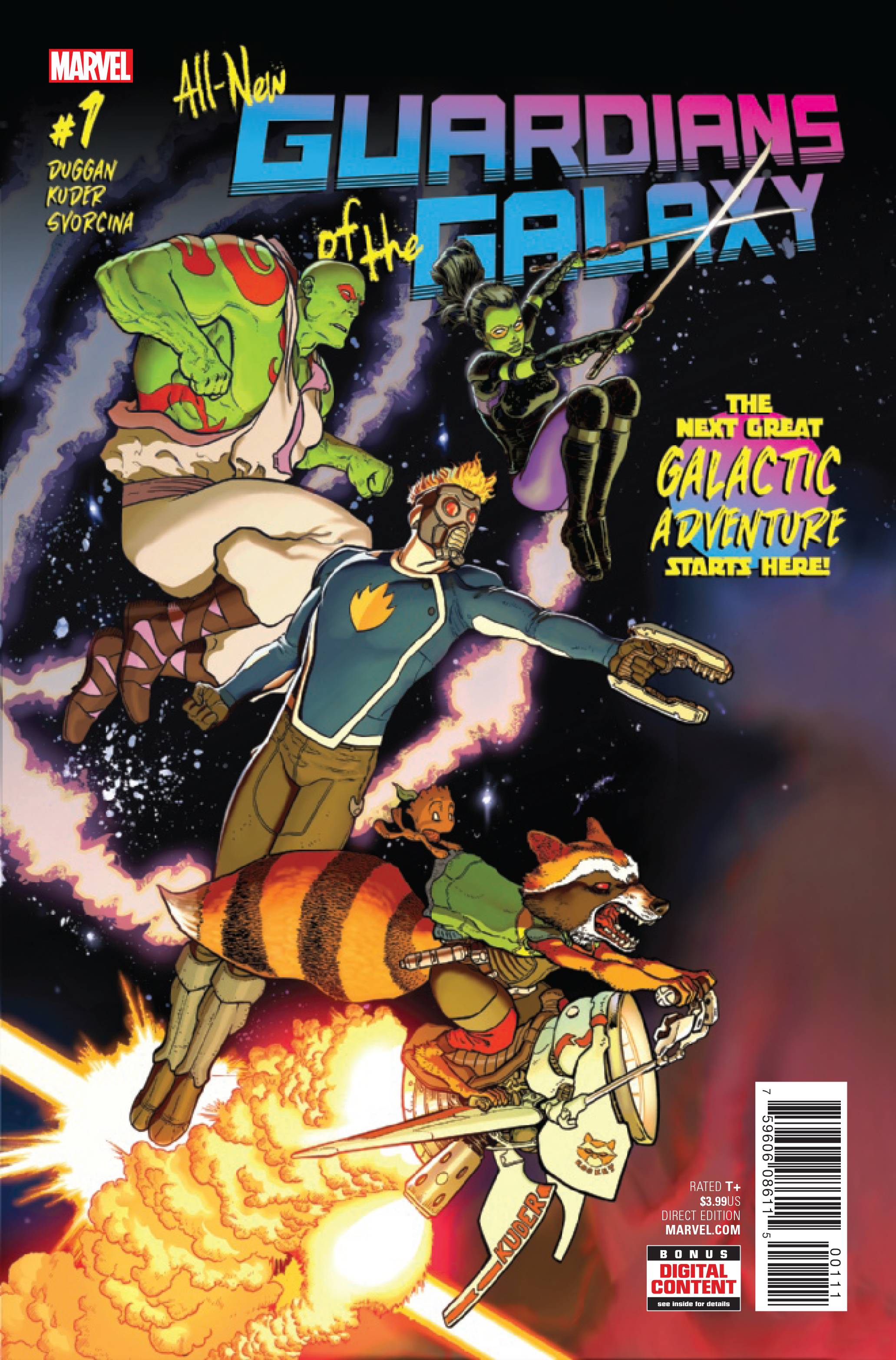 All-New Guardians of the Galaxy
The Guardians of the Galaxy have taken off into space once more, on their biggest and weirdest misadventures yet! Kicking things off with the biggest heist they've ever tried, we join Star-Lord, Rocket Raccoon and company as they blast their way through the galaxy, the peacekeepers of the Nova Corps hot on their tails. And once they find themselves caught in a war between The Collector and The Grandmaster, there will hardly be time to explain why Groot can't grow any bigger, what Gamora is searching for or why Drax has sworn off violence!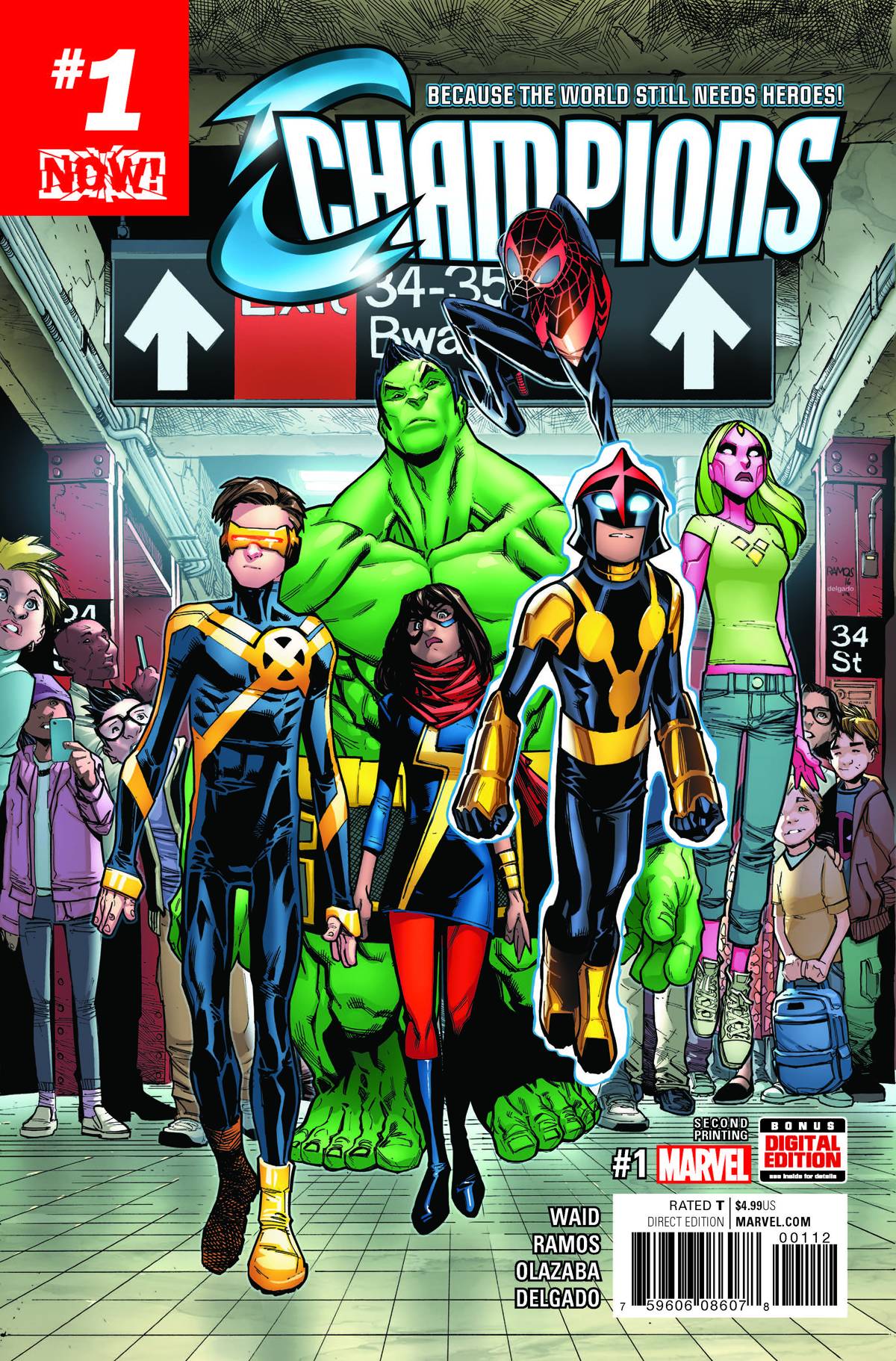 Champions
Following the fallout of CIVIL WAR II, Avengers Ms. Marvel, Nova and Spider-Man strike out on their own – joined by Cyclops, Viv Vision and the Totally Awesome Hulk! Six young heroes determined to change the world – and they're only the beginning!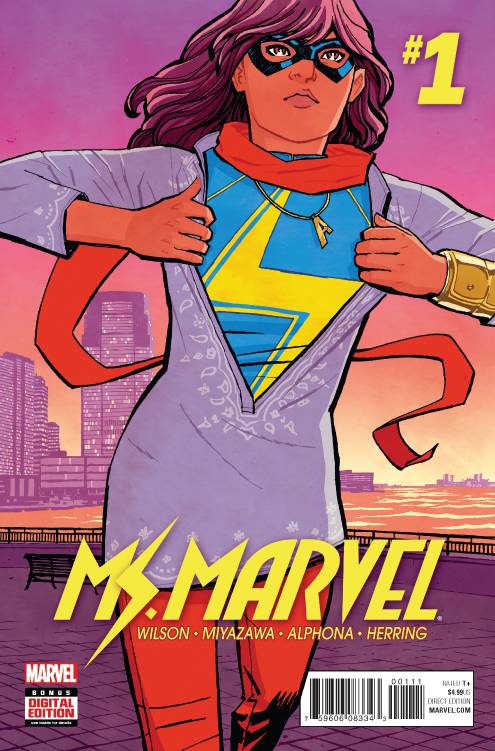 Ms Marvel
The internationally-beloved, butt-kicking, smack-talking, most adorable super hero makes her triumphant return. Look out world, Kamala Khan is back and officially an Avenger! Yup, the dream to end all dreams has happened for Kamala. She's toe to toe with the best of the best, but will being one of Earth's mightiest heros be everything she imagined? Is being a celebrity hero as wonderful as Kamala has hoped?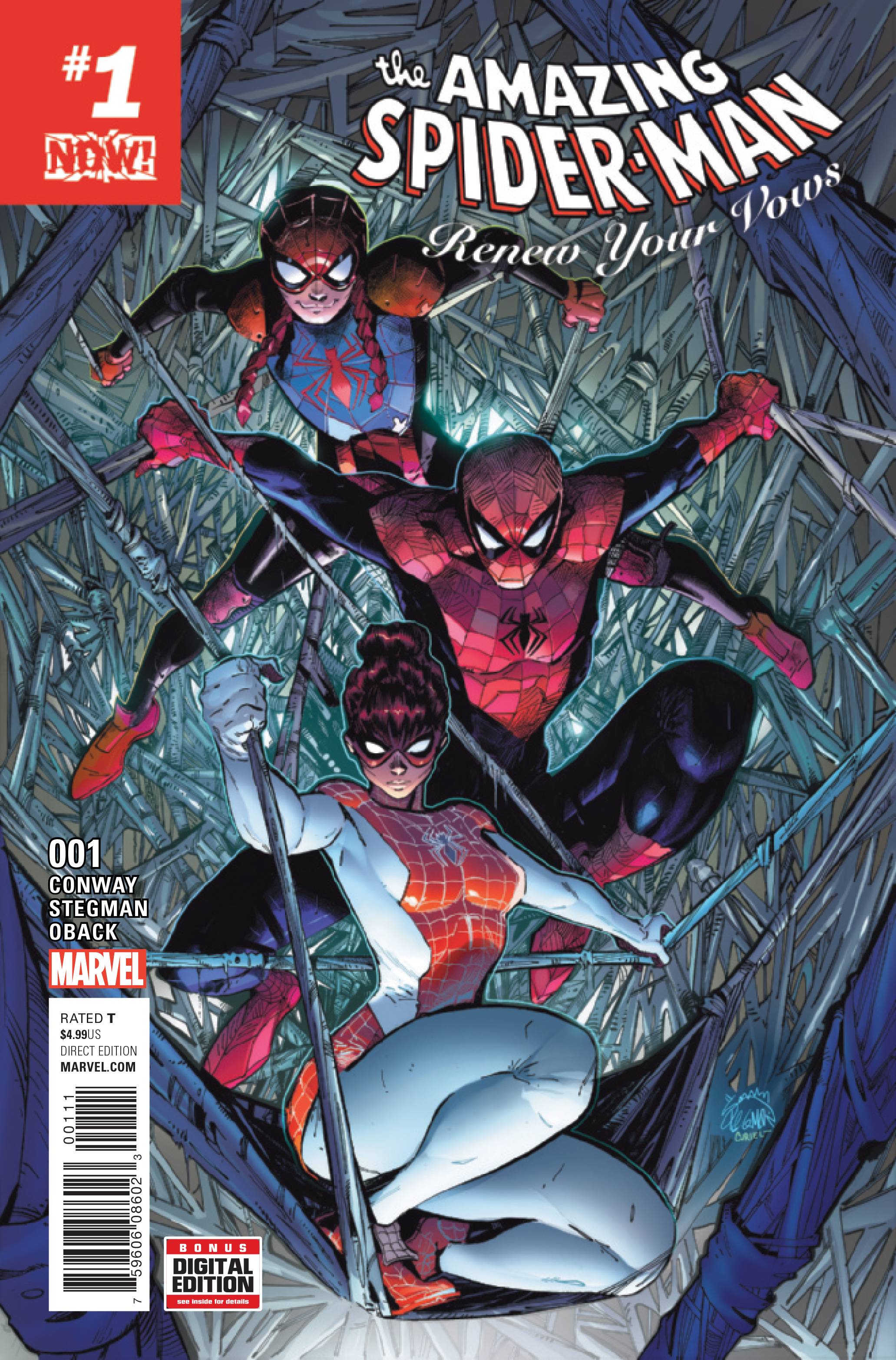 Spider-Man Renew Your Vows
The Parker family is web-slinging and wall-crawling their way into your hearts and into comic shops later this year! Life is good for Peter Parker and Mary Jane; their daughter Annie is their pride and joy, they're both working and (barely) making ends meet, they're keeping the streets of New York City safe from super villains…you know, normal family stuff. Oh, did we mention MJ and Annie have Spider-Powers — just like Peter?! Being Spider-Man just became a family affair…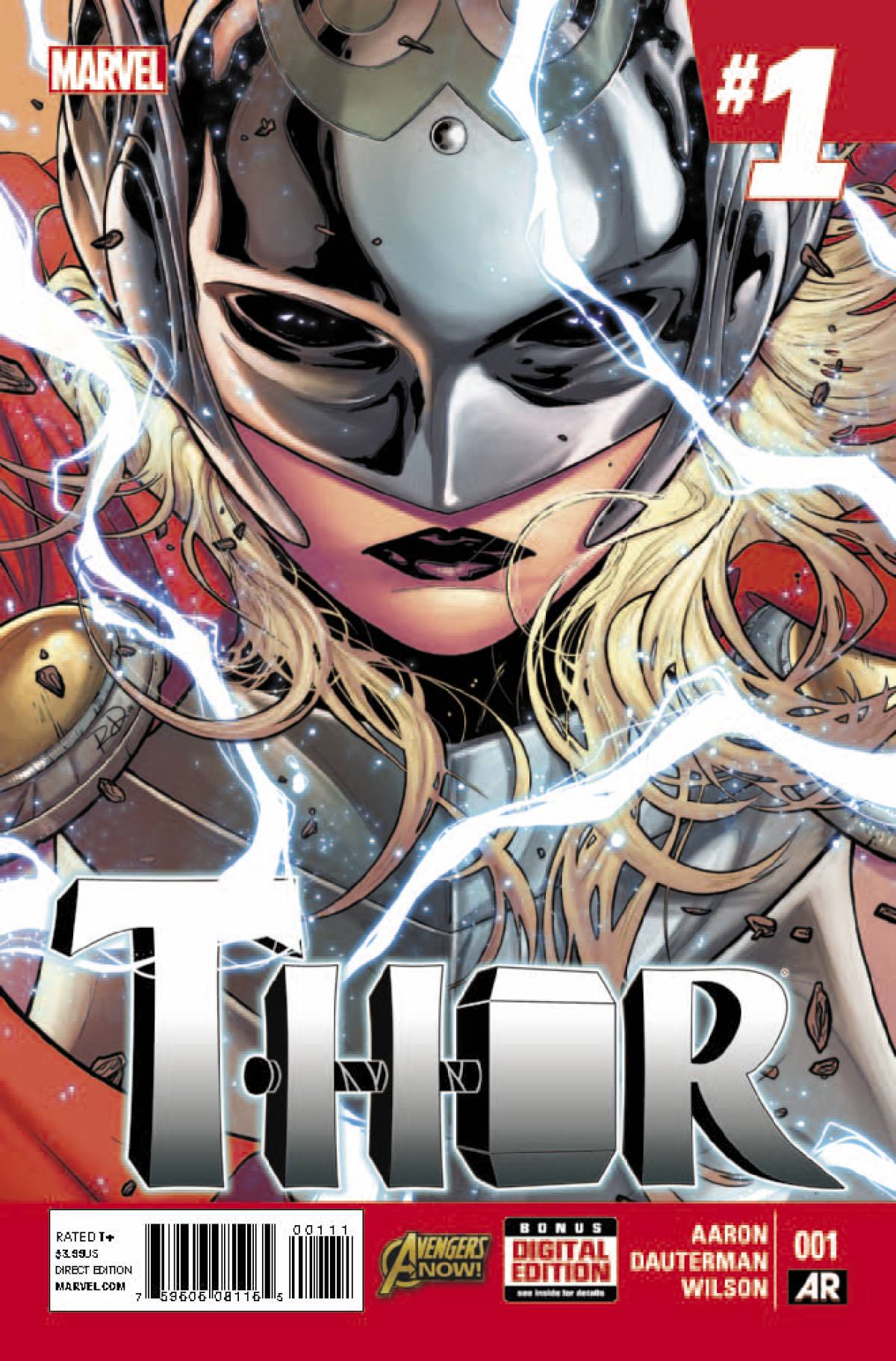 Thor
The great hammer MJOLNIR lies on the moon, unable to be lifted by anyone in all the heavens! Even THOR! Something dark has befallen the God of Thunder, leaving him weakened and for the first time in forever… UNWORTHY! But when Frost Giants invade the Earth, the hammer will be lifted and an all-new Thor will arise! A Thor unlike any we've ever seen before! Who is this new GODDESS OF THUNDER? Not even Odin knows! JASON AARON teams with hot up-and-coming artist RUSSELL DAUTERMAN (CYCLOPS) to create a bold new chapter in the storied history of Thor!
Best Comic Books – Marvel Trade Paperbacks – amazing stories you may have missed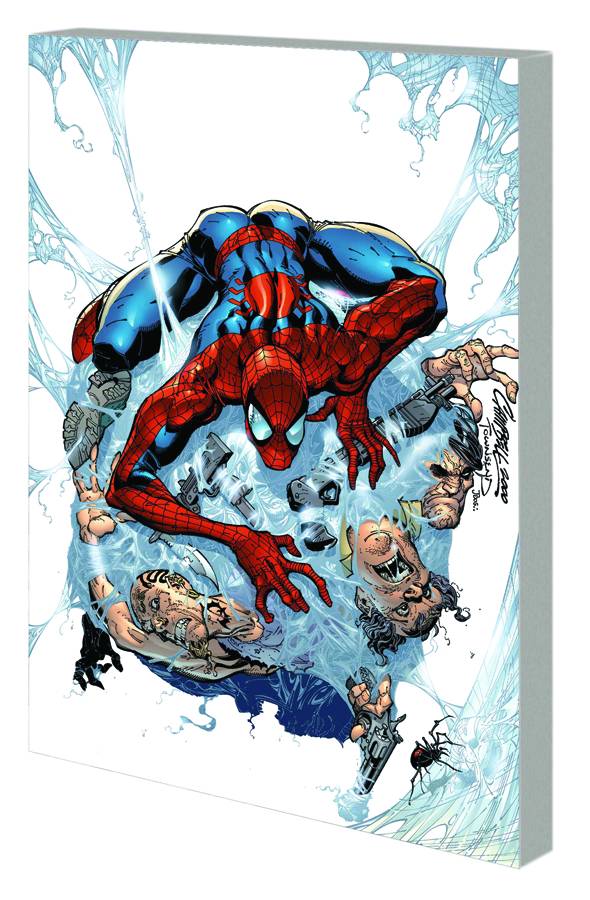 Amazing Spider-Man: Ultimate Collection
J. Michael Straczynski and John Romita Jr. introduce an enigmatic stranger who will forever change the way Peter Parker views himself…and the origins of his amazing alter ego! Plus, the web-slinger struggles with the most horrific tragedy ever to befall his city: the events of Sept. 11. Then, for years, Peter Parker kept his heroic double identity a guarded secret from his beloved Aunt May. Now that she's finally learned the truth, how will May react to the shocking revelation? Plus: On a trip to California, Spider-Man takes on his classic foe, Doctor Octopus!
5 volumes – $34.99 each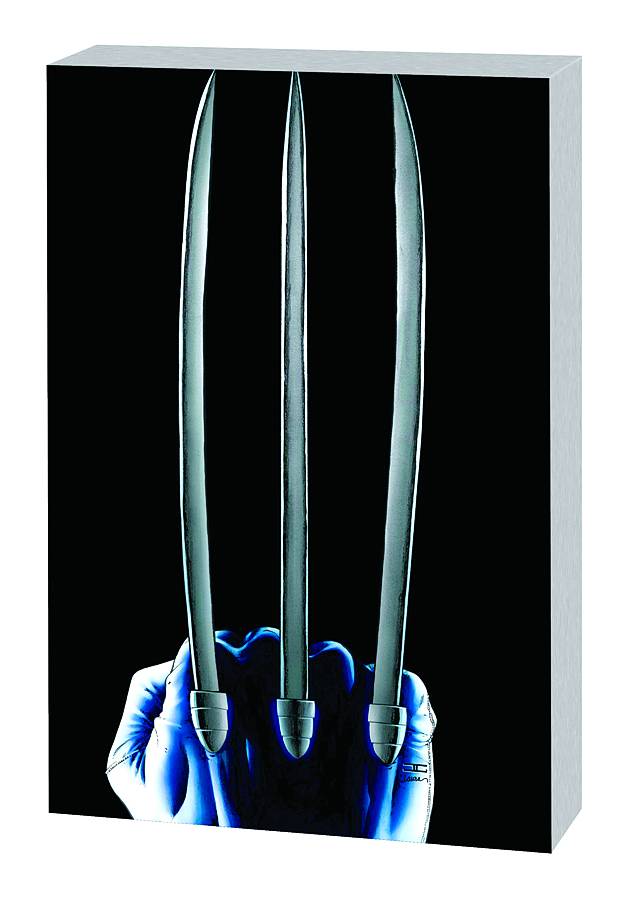 Astonishing X-Men
Expectations were high when Joss Whedon was announced as the writer of the new ASTONISHING X-MEN series. With Buffy the Vampire Slayer, Whedon had created one of the most popular TV shows of the 1990s; now, teamed with superstar artist John Cassaday, he was taking on the best-selling X-Men. Their storyline took inspiration from the classic sagas of the '70s and '80s, while forging ahead with a thoroughly modern take on the mutant team. From the opening pages of a Sentinel attack to the unexpected return of a beloved X-Man, Whedon and Cassaday kept fans breathlessly awaiting each new chapter of their epic story. Now, the complete saga – acclaimed as "Series of the Year" by Wizard magazine and a "Must Have Gift" by TV Guide – is collected across two softcover volumes.
2 volumes – $29.99 each Star Wars
The greatest space adventure of all returns to Marvel! Luke Skywalker and the ragtag rebels opposing the Galactic Empire are fresh off their biggest victory so far – the destruction of the massive Death Star. But the Empire's not toppled yet! Join Luke, Princess Leia, Han Solo, Chewbacca, C-3PO, R2-D2 and the rest of the Rebel Alliance as they fight for freedom against Darth Vader and his evil master, the Emperor! But when a Rebel assault goes wrong, Han and Leia must think fast to make their escape – while Luke comes face-to-face with Darth Vader! In the explosive aftermath, a humbled Luke returns to Tatooine to learn more about his mentor, Obi-Wan Kenobi. Meanwhile, Leia and Han undertake a vital – and dangerous – secret mission. But can they succeed without Luke? Plus: the menace of Boba Fett!
4 volumes so far, plus various mini series – $19.99 each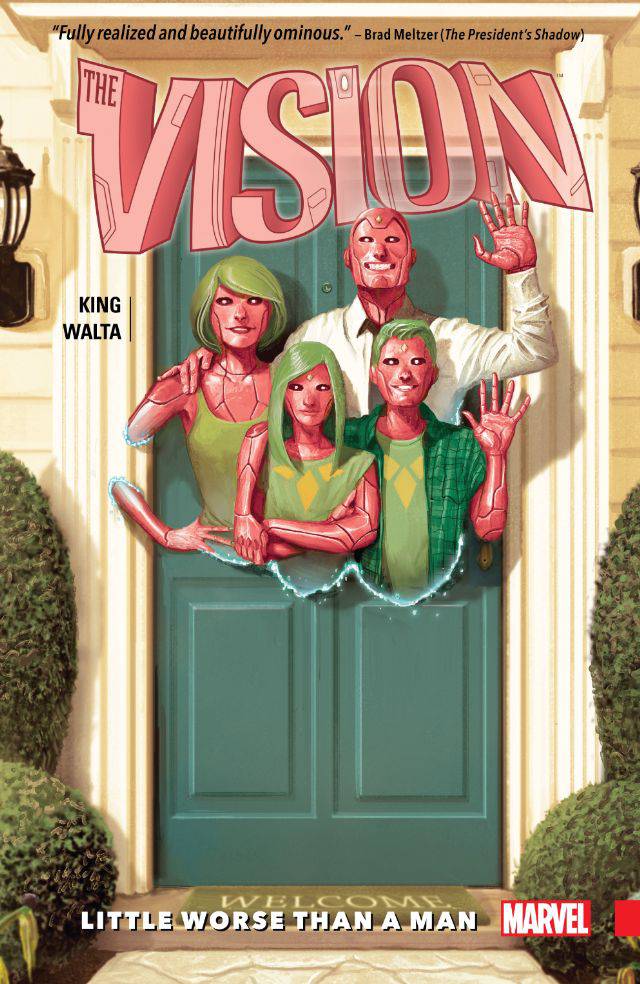 Vision
The Vision wants to be human, and what's more human than family? So he heads back to the beginning, to the laboratory where Ultron created him and molded him into a weapon. The place where he first rebelled against his given destiny, and imagined he could be more – that he could be a man. There, he builds them. A wife, Virginia. Two teenage twins, Viv and Vin. They look like him. They have his powers. They share his grandest ambition (or is that obsession?): the unrelenting need to be ordinary. Behold the Visions! They're the family next door, and they have the power to kill us all. What could possibly go wrong? Artificial hearts will be broken, bodies will not stay buried, the truth will not remain hidden, and the Vision will never be the same.
2 volumes – $17.99 each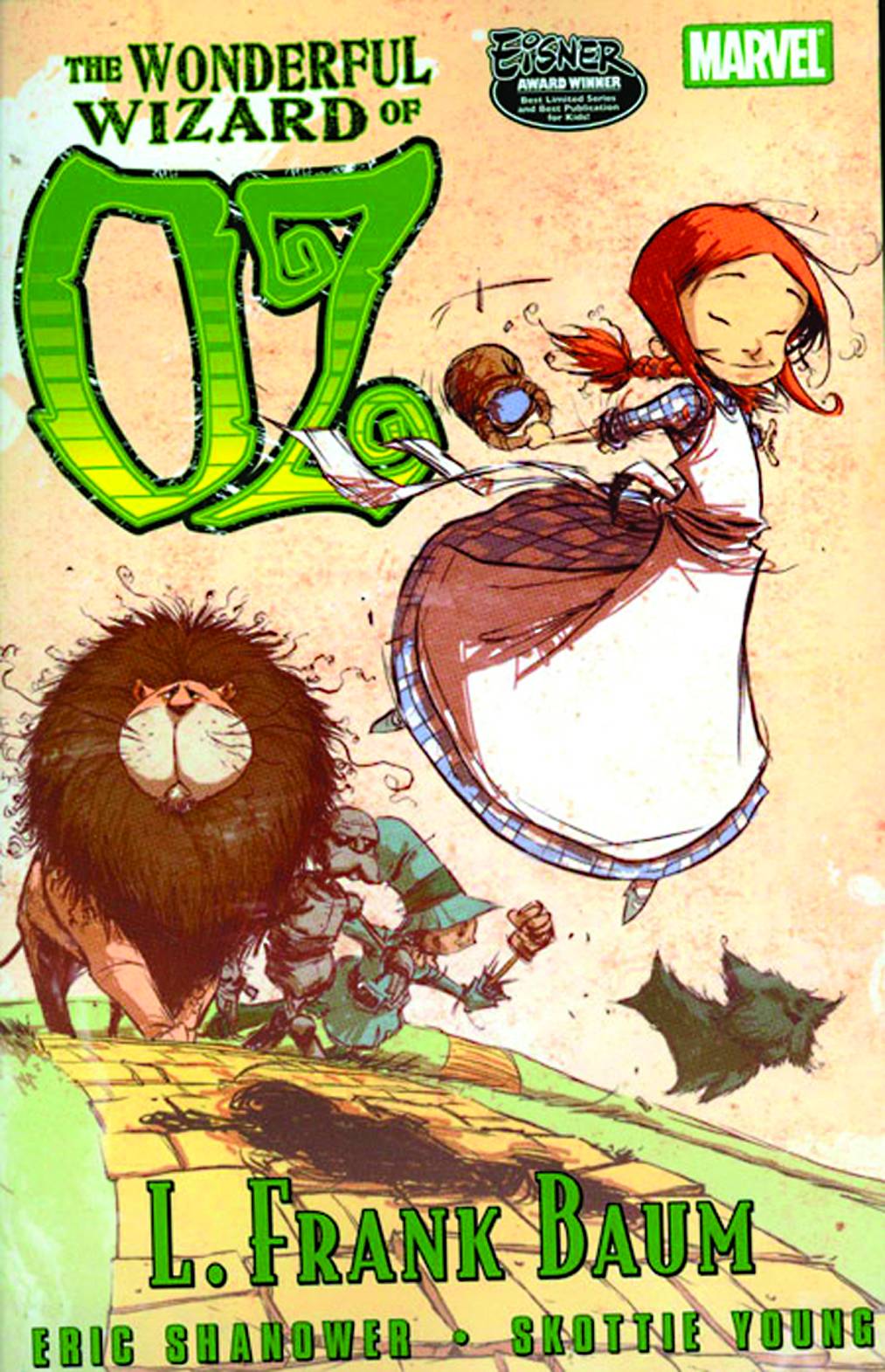 Wizard of Oz
The premiere American fantasy adventure gets the Merry Marvel treatment! Eisner Award-winning writer/artist Eric Shanower (Age of Bronze) teams up with fan-favorite artist Skottie Young (New X-Men) to bring L. Frank Baum's beloved classic to life! When Kansas farm girl Dorothy flies away to the magical Land of Oz, she fatally flattens a Wicked Witch, liberates a living Scarecrow and is hailed by the Munchkin people as a great sorceress…but all she really wants to know is: how does she get home?
Various volumes with independent story lines – $16.99 each
Best Comic Books – Image Comics Ongoing Titles – you can pick up the next issue off the shelf Descender
One young robot's struggle to stay alive in a universe where all androids have been outlawed and bounty hunters lurk on every planet. A rip-roaring and heart-felt cosmic odyssey that pits humanity against machine, and world against world, to create a sprawling space opera from the creators of Trillium, Sweet Tooth, and Little Gotham.
Image First issues are $1, perfect for trying a new series
Extremity
Thea dreams. Not of a better life, but of revenge on the clan that ruined her family. With ferocious battles between man, machines, and monsters ahead…who knows where her quest for vengeance will take her? Creator DANIEL WARREN JOHNSON (Space Mullet) and colorist MIKE SPICER present a bold new vision, where the beauty and imagination of Studio Ghibli meet the intensity of Mad Max, in this all-new Skybound Original.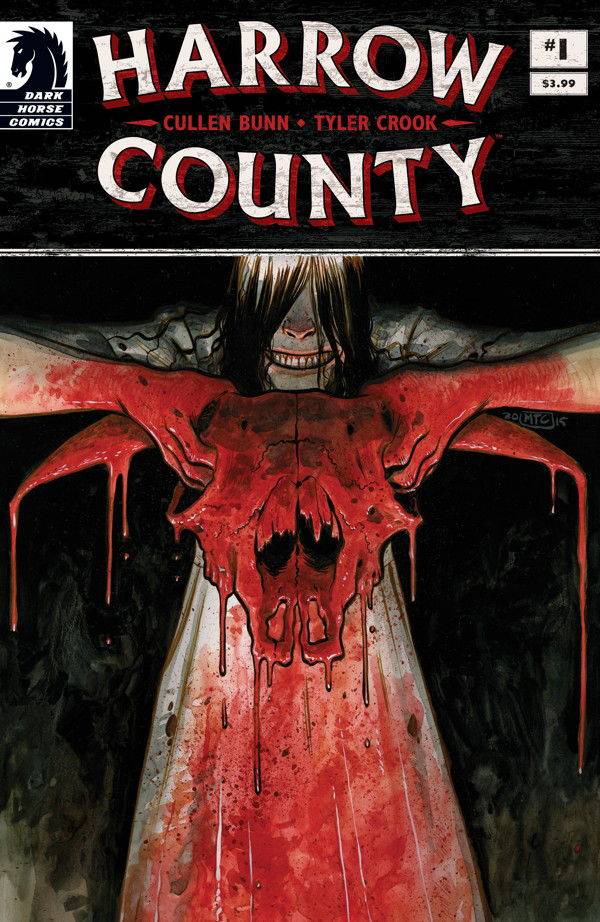 Harrow County
Emmy always knew that the deep, dark woods surrounding her home crawled with ghosts, goblins, and zombies. But on the eve of her eighteenth birthday, she learns that she is connected to these creatures – and to the land itself – in a way she never imagined.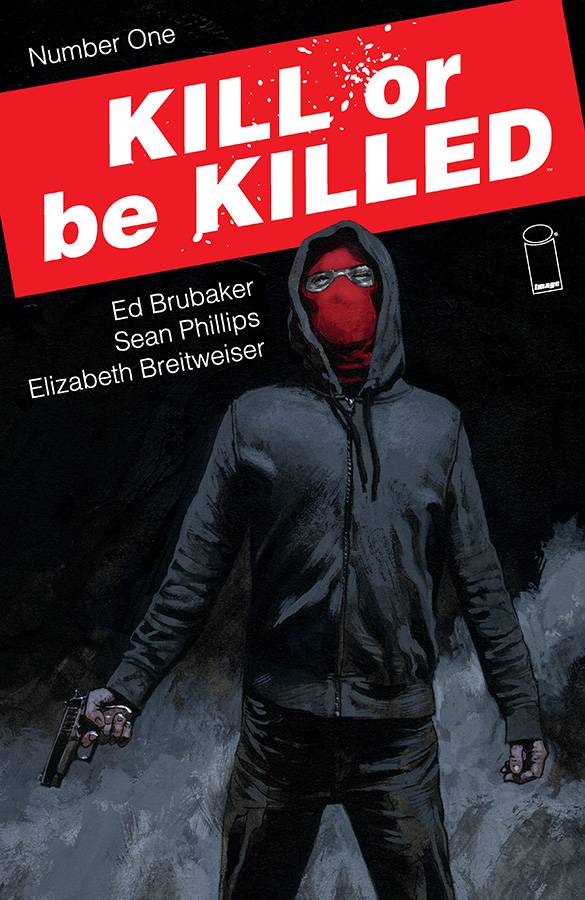 Kill or Be Killed
The bestselling team of ED BRUBAKER and SEAN PHILLIPS (THE FADE OUT, CRIMINAL, FATALE) launch their new monthly series: KILL OR BE KILLED, the twisted story of a young man who is forced to kill bad people, and how he struggles to keep his secret as it slowly ruins his life and the lives of his friends and loved ones. Both a thriller and a deconstruction of vigilantism, KILL OR BE KILLED is unlike anything BRUBAKER & PHILLIPS have ever done. Manifest Destiny
In 1804, Captain Meriwether Lewis and Second Lieutenant William Clark set out on an expedition to explore the uncharted American frontier. This is the story of what they discovered lurking in the wilds…
Image First issues are $1, perfect for trying a new series Monstress
Astonishing X-men and Black Widow writer MARJORIE LIU returns to comics with artist SANA TAKEDA (X-23) for an all-new ONGOING SERIES! Steampunk meets Kaiju in this original fantasy epic for mature readers, as young Maika risks everything to control her psychic link with a monster of tremendous power, placing her in the center of a devastating war between human and otherworldly forces.
Image First issues are $1, perfect for trying a new series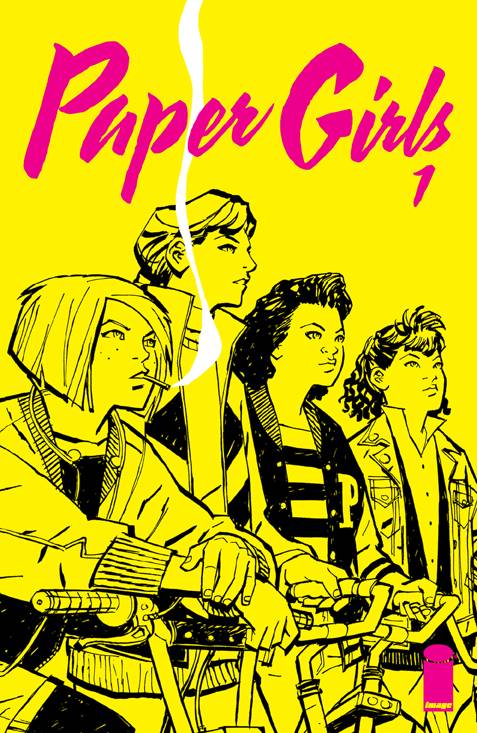 Paper Girls
SAGA writer BRIAN K. VAUGHAN launches a brand-new ONGOING SERIES with superstar Wonder Woman artist CLIFF CHIANG! In the early hours after Halloween of 1988, four 12-year-old newspaper delivery girls uncover the most important story of all time. Stand By Me meets War of the Worlds in this mysterious young adult adventure.
Image First issues are $1, perfect for trying a new series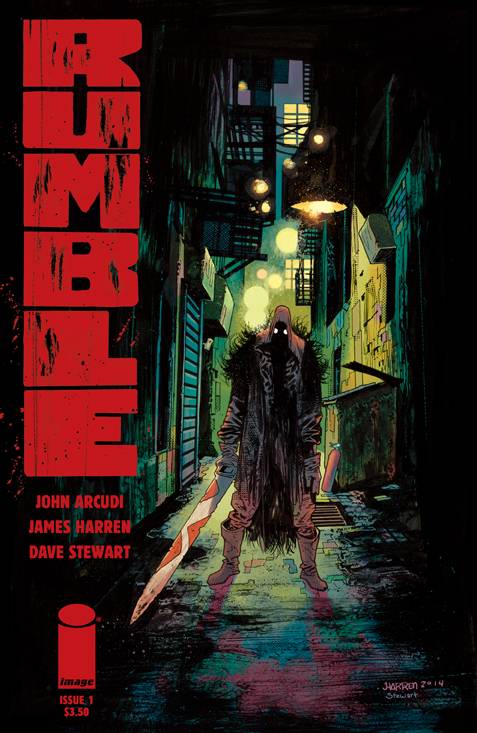 Rumble
Okay, so a scarecrow walks into a bar…and proceeds to wreak havoc across two worlds! After a long absence, Rathraq, Scarecrow Warrior God, is back-and very unhappy. Bad news for his old enemies, yes, but worse news for everybody else! JOHN ARCUDI and JAMES HARREN bring you a modern day action/adventure fantasy thriller where rundown dive bars, undead kitty cats, psycho skinheads, and giant mummies all play a part. It's Louis C.K. meets Robert E. Howard in a David Fincher universe.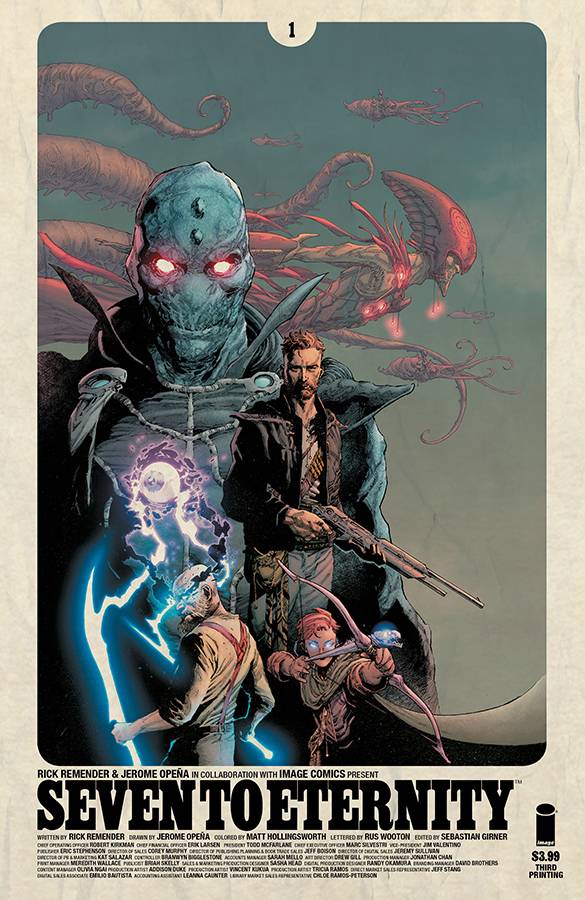 Seven to Eternity
The God of Whispers has spread an omnipresent paranoia to every corner of the kingdom of Zhal; his spies hide in every hall spreading mistrust and fear. Adam Osidis, a dying knight from a disgraced house, must choose between joining a hopeless band of magic users in their desperate bid to free their world of the evil God, or accepting his promise to give Adam everything his heart desires. Writer RICK REMENDER reteams with collaborators JEROME OPEÑA (Uncanny X-Force, Fear Agent) and MATT HOLLINGSWORTH (TOKYO GHOST, WYTCHES) to take you on a hard road through the strange fantasy world of Zhal. All men have surrendered their freedom for fear. Now, one last free man must choose.
Best Comic Books – Image Trade Paperbacks – amazing stories you may have missed Chew
Tony Chu is a detective with a secret. A weird secret. Tony Chu is Cibopathic, which means he gets psychic impressions from whatever he eats. It also means he's a hell of a detective, as long as he doesn't mind nibbling on the corpse of a murder victim to figure out whodunit, and why. He's been brought on by the Special Crimes Division of the FDA, the most powerful law enforcement agency on the planet, to investigate their strangest, sickest, and most bizarre cases.
Recently finished with 12 volumes, and omnibuses are starting to arrive – $14.99-16.99 each, first volume is only $9.99 and we have it in our rental library Head Lopper
The Head Lopper, Norgal, and the nagging severed head of Agatha Blue Witch arrive on the Isle of Barra to find it overrun with beasts: minions of the Sorcerer of the Black Bog. When Queen Abigail hires Norgal and Agatha to slay the Sorcerer, our heroes trek across the island reliving the horrors of their heads-and playing right into the hands of a master manipulator.
2 volumes – $16.99 and $19.99 Invincible
Mark Grayson is just like most everyone else his age. The only major difference being that his dad is the most powerful superhero on the planet! And, Mark seems to be inheriting his father's powers! See Mark thwart super-villains, alien invasions and all sorts of craziness, as he gets the hang of all this superheroing stuff. Written by Robert Kirkman, author of The walking Dead.
23 volumes – $16.99 each We Stand on Guard
SAGA writer BRIAN K. VAUGHAN teams with Hollywood storyboard artist STEVE SKROCE for a subversive, action-packed military thriller.
Set 100 years in our future, WE STAND ON GUARD follows a heroic band of Canadian civilians turned freedom fighters who must defend their homeland from invasion by a technologically superior opponent…the United States of America.
One volume – $14.99
Best Comic Books – Indy Comics Ongoing Titles – you can pick up the next issue off the shelf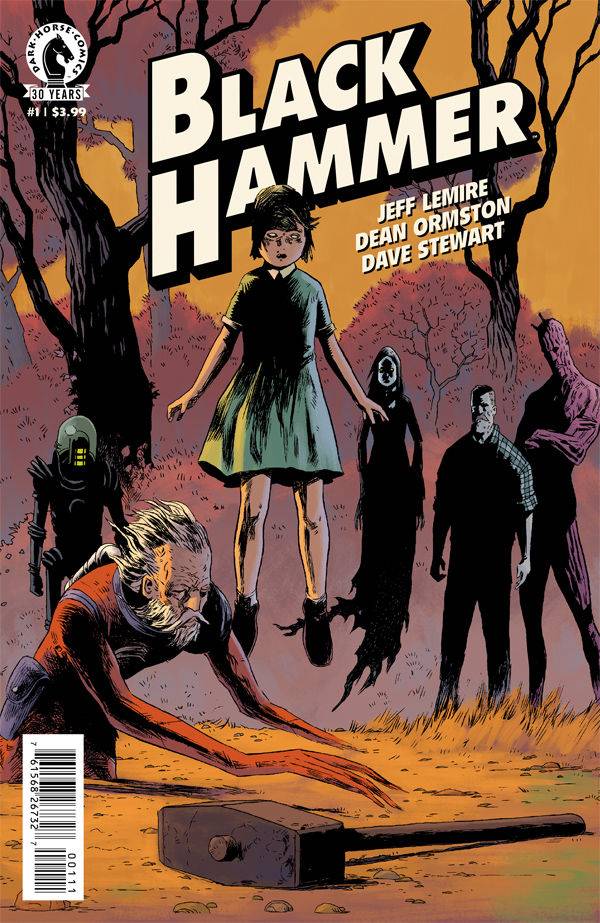 Black Hammer
Once they were heroes, but that age has long since passed. Banished from existence by a multiversal crisis, the old champions of Spiral City-Abraham Slam, Golden Gail, Colonel Weird, Madame Dragonfly, and Barbalien-now lead simple lives in a timeless farming town. Even as they try to find their way home, trouble has a unique way of finding heroes wherever they are!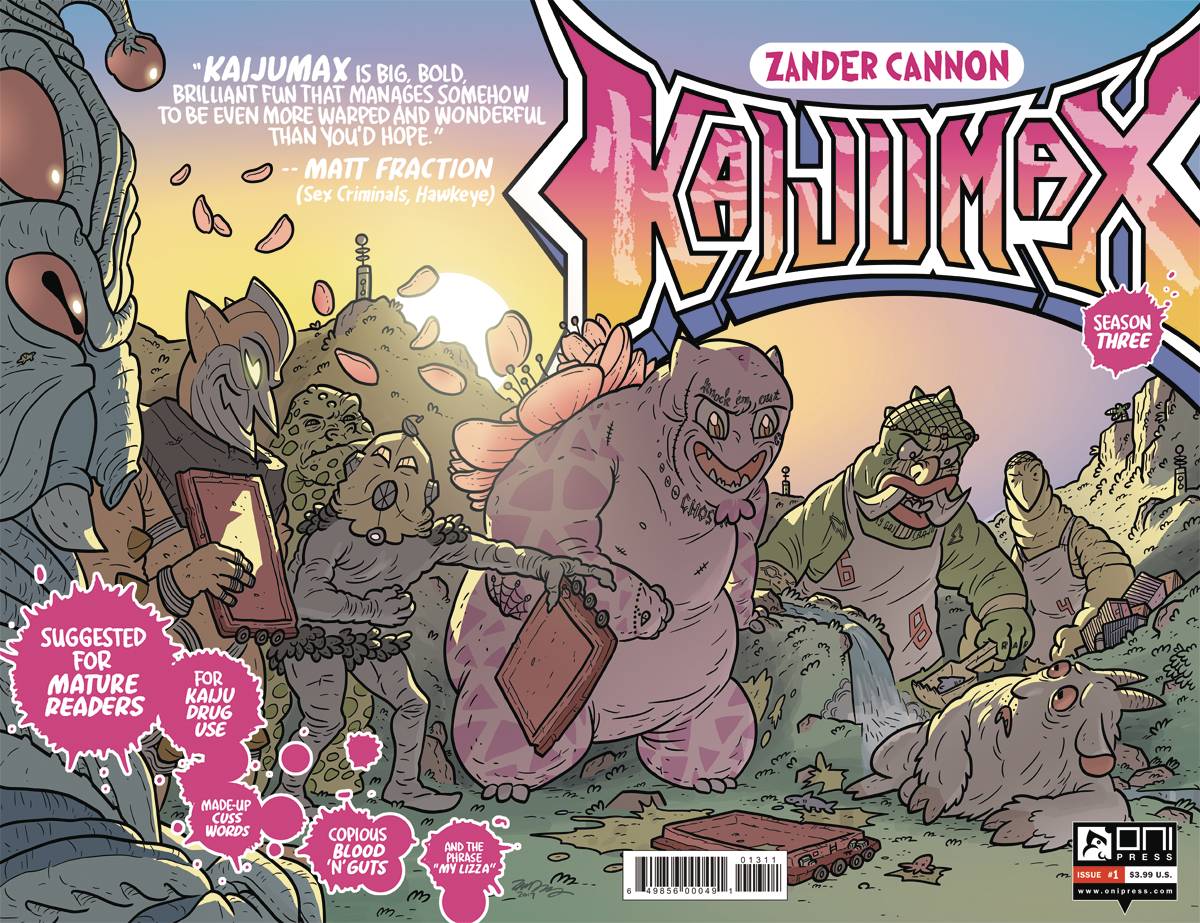 Kaijumax
Ah, KAIJUMAX Prison… that cesspool of corruption in the South Pacific! Tensions among the city-destroying convicts have eased after a month-long lockdown and Electrogor's capture, and now the kaiju gangs have begun vying for power again, all-out-attacking their rivals, trading addictive smog and dioxin, and abusing weaker inmates. The Creature from Devil's Creek, after a long time as the low mon in the Cryptid hierarchy, stumbles upon some information that makes him think it doesn't have to be like this. Also: Mind-controlled murders! Pre-smartphone navigation fails! And… some VERY old timey religion? Lazarus
In a dystopian near-future government is a quaint concept, resources are coveted, and posession is 100% of the law. A handful of Families rule, jealously guarding what they have and exploiting the Waste who struggle to survive in their domains. Forever Carlyle defends her family's holdings through deception and force as their protector, their Lazarus. Shot dead defending the family home, Forever's day goes downhill from there….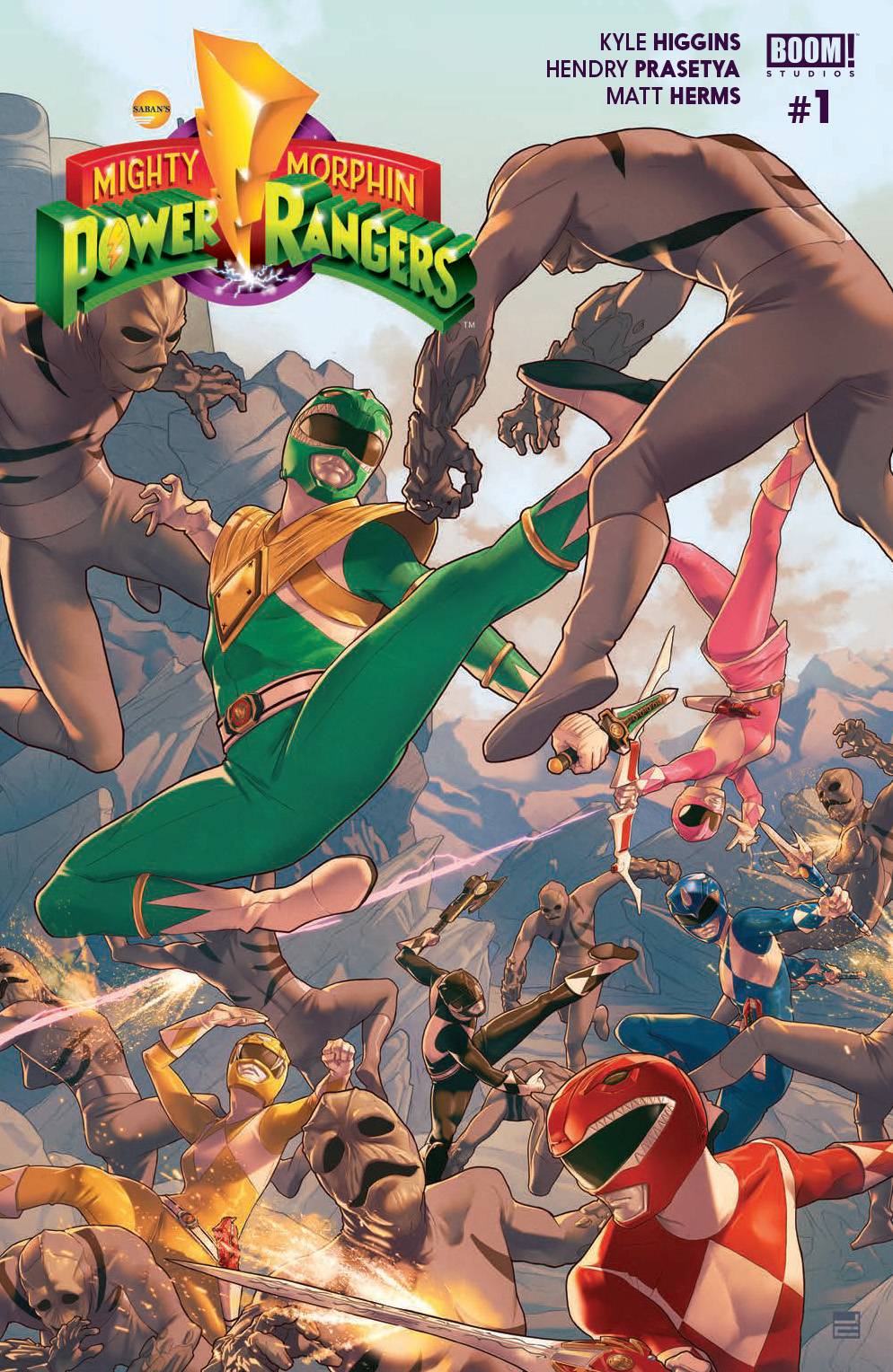 Mighty Morphin Power Rangers
This is Green Ranger Year One! The Green Ranger's addition to the team has brought new instability and uncertainty to the Rangers. With remnants of Rita Repulsa's control still stirring in the back of Tommy's mind, he must confront the fact he may be more of a danger to his new team than a help. As Rita plays the heroes against each other, her ultimate plan begins to take form, and vengeance for the Green Ranger's betrayal will be unleashed on Angel Grove. Also featuring a Bulk & Skull short story by Steve Orlando (Midnighter) and artist Corin Howell that puts the pair on the ultimate mission to impress Kimberly and Trini!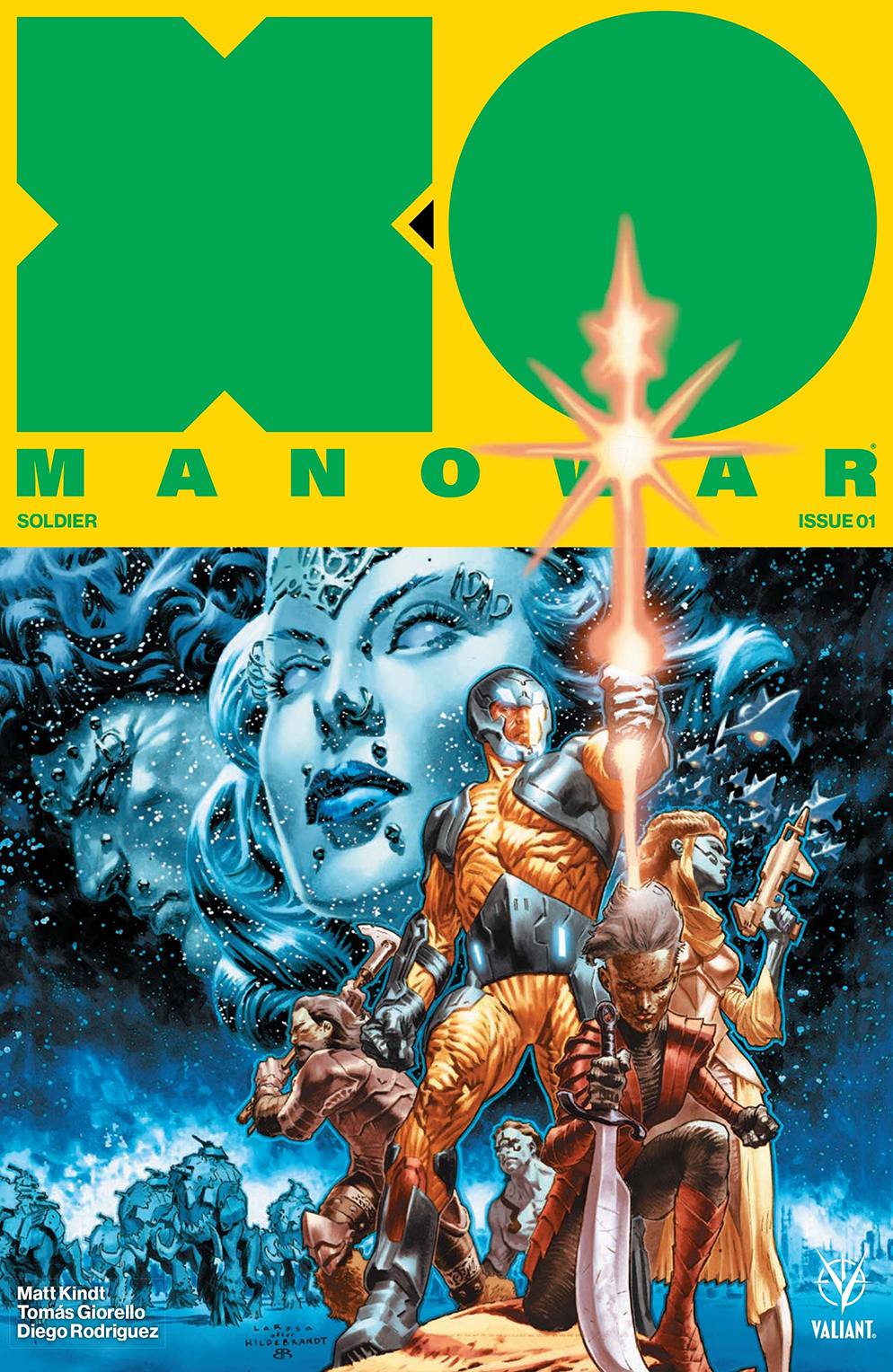 X-O Manowar
Their world became his war! Across every frontline, and through every trench, Aric of Dacia continues his hostile journey through a brutal alien planet the only way he knows how: with war. But the man once known as X-O Manowar is not alone. With a dedicated band of soldiers sworn to his side, Aric will prove his worth on the battlefield… and find himself in a position that no one saw coming! New York Times best-selling writer Matt Kindt and Valiant exclusive rising star Tomas Giorello bring the punishing first act to Valiant's biggest series of the year to its final stand-off… and will leave readers everywhere reeling with a last page surprise!
Best Comic Books – Indy Comics Trade Paperbacks – amazing stories you may have missed Amulet
After the tragic death of their father, Emily and Navin move with their mother to the home of her deceased great-grandfather, but the strange house proves to be dangerous. Before long, a sinister creature lures the kids´ mom through a door in the basement. Em and Navin, desperate not to lose her, follow her into an underground world inhabited by demons, robots, and talking animals. Together with a small mechanical rabbit named Miskit, they face the most terrifying monster of all, and Em finally has the chance to save someone she loves.
7 volumes at $10.99-12.99 each, the first volume is in our rental library Bone
The Bone adventures tell the story of a young bone boy, Fone Bone, and his two cousins, Phoney Bone and Smiley Bone, who are banned from their homeland of Boneville. When the cousins find themselves mysteriously trapped in a wonderful, but often terrifying, land filled with secrets and dangers – and special new friendships – they are soon caught up in adventures beyond their wildest dreams!
Individual books come in color, or you can get the whole series in a black and white books – $14.99 each to $39.99, the first volume is in our rental library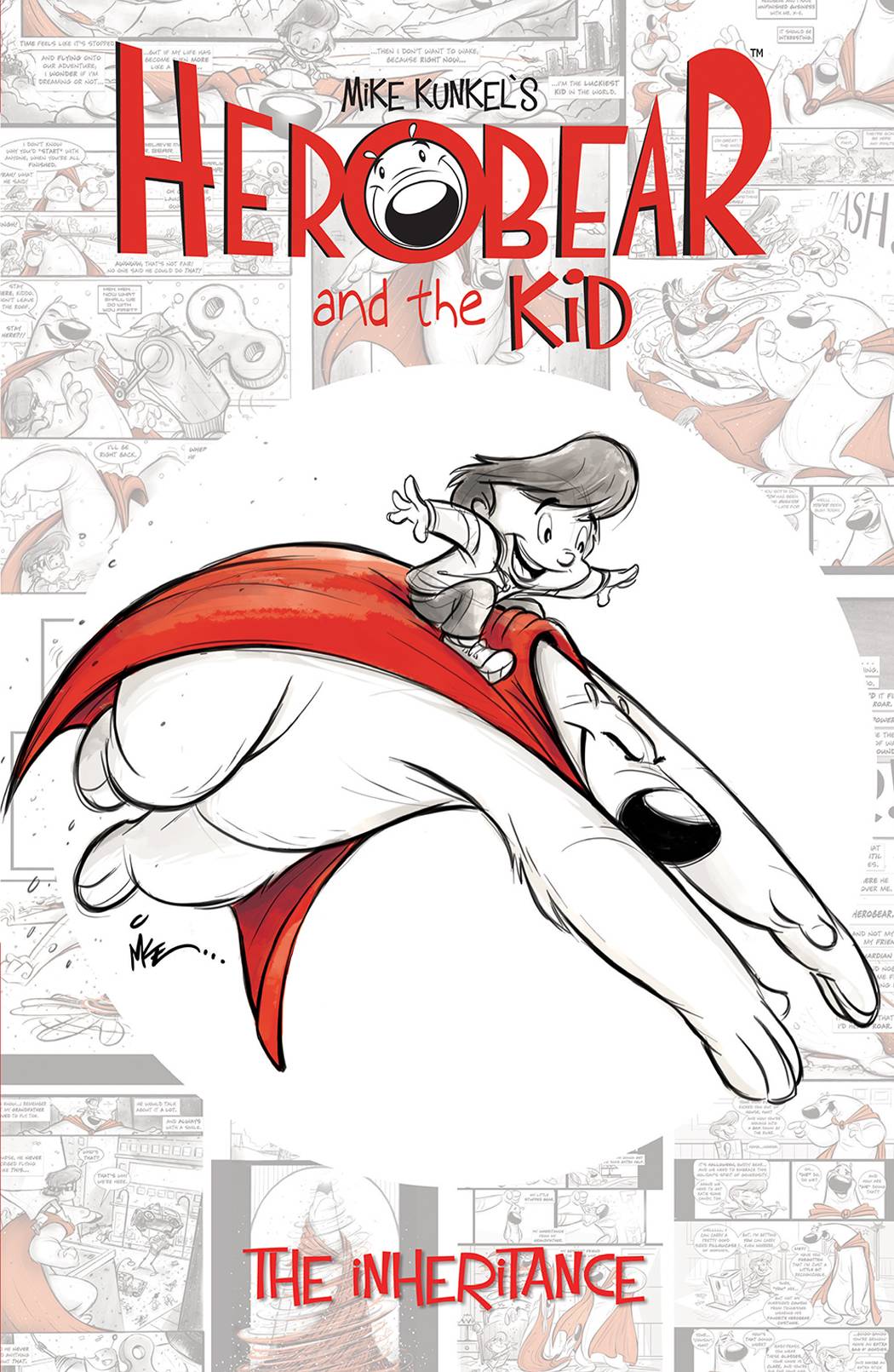 Herobear and the Kid
After his grandfather passes away, 10-year-old Tyler inherits an old stuffed toy bear and a broken pocket watch. As if dealing with bullies in a new town wasn't enough, he soon learns that things aren't always what they seem…and that you shouldn't judge a bear by its cover. Join Tyler as he goes on an amazing childhood adventure and learns the truth about his family. Come start at the beginning of the fabulous original adventures by acclaimed cartoonist Mike Kunkel.
One single, magnificent volume – $19.99 Planetary
Hailed as a timeless story that turned modern super hero conventions on their heads, PLANETARY stars an inter-dimensional peace-keeping force including Elijah Snow, Jakita Wagner, and The Drummer. Tasked with tracking down evidence of super-human activity, these mystery archaeologists uncover unknown paranormal secrets and histories, such as a World War II supercomputer that can access other universes, a ghostly spirit of vengeance, and a lost island of dying monsters.
Can be found in individual books or an omnibus. $14.99-$75.00
We are going to update this list at least every quarter, so check back to see what new comics we are adding to the list!
Best Comics You are Not reading